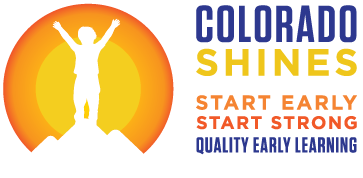 Colorado Shines is a way to improve the quality at your program, including early childhood centers and family child care homes.  Additionally, it is a way for families to find quality early childhood programs that meet their individual child care needs.
Visit ColoradoShines.com
Level 1: These programs are licensed by the State of Colorado and meet basic health and safety standards. IREE, the local Licensing entity supports centers with Level 1 needs. To learn more, visit the IREE website.
Level 2: These programs meet the requirements of Level 1 and are taking specific steps to improve their quality, like completing additional training courses and developing a Quality Improvement Plan.
Level 3-5: These quality programs are evaluated using 5 rating categories.  Not all high quality programs look the same; one may focus on providing training for their staff, while another may invest in a stronger learning environment.
We are committed to providing training and technical assistance to help your program reach its Colorado Shines rating goals.
There are other ways that programs can improve their quality that are called "Crosswalks" or "Alternative Pathways."  These are ratings that have been given an equivalent in the Colorado Shines rating system (e.g., NAFCC, NAEYC) and include pathways for school districts with preschool programs.
If you are interested in accessing supports to reach the next level in Colorado Shines, contact Shay Almonte, Foundations Program Director, to discuss available options for your program.
Foundations/Alliance for Kids did a study with a group of EQIT participants who received coaching. These were teachers, family child care providers, and directors just like you. On average, 95% of participants in the study reported an increase in competence and confidence, their ability to build relationships with children, their sense of professionalism, and their job satisfaction. Everyone wants to have a fulfilling job that they are great at, and coaches can come along beside you can help get you there!
Coaching + REflective Supervision
STay up to date with Early Childhood News!